Chiclana City Council presents its new Transparency Portal in the hands of Ogovsystem
A Transparency Portal is born for the City Council of Chiclana with the aim of becoming a tool for daily use by citizens, groups and entities. This being a dynamic tool, which will evolve not only due to the municipal initiative itself but also, and especially, in response to the needs and demands of citizens.
In addition to increasing the amount of published information, it shows in a clear, friendly and understandable way for the citizen all the information that is available, organizing itself into six main axes that integrate the obligations of the legal framework and the indicators of the main methodologies of Transparency: Municipal Organization, Planning, Regulations, Heritage and Services, Financial Economics, Contracting Services, and Public Works and Urbanism.
A 100% adaptive and innovative design to the corporate identity of said Institution.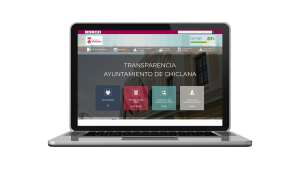 Transparency Portal of the Chiclana City Council
Throughout 2021, the identification and management of information has been implemented in accordance with Law 1/2014, of June 24, on Public Transparency of Andalusia and the Law 19/2013, of December 9, on transparency, access to public information and good governance, and with the indicators of the main Transparency methodologies: Transparency International, Infoparticipa Map and the Dynamic Index of Transparency (DYNTRA) .
Currently and with the launch of this new portal, the vast majority of the required items are met, specifically, 134 of 162 index indicators, the City Council of Chiclana meets the 82.72%, positioning itself as the most transparent in the province of Cádiz and third in Andalusia.
We are very happy and grateful for the trust placed in our services and solutions by the Institution.
Do you want to see a video-summary of the Portal?< /a>
If you want to know more about this new project or want to contact us, you can fill out this form. Thank you!